The Story of a Gutsy Boat Builder

By Brian Nolan
They were the Stradivariuses of the postwar plywood fleets and, when the last wooden Trojan cruiser rolled off the company's production line in Lancaster, Pennsylvania, in 1974, the sadness was palpable. The event marked a milestone in the turbulent life of this upstart boat builder.

By daring to duke it out with the colossus which was Chris-Craft, and going toe-to-toe with the great pretender to the boating throne, the Owens Yacht Company, Trojan demonstrated from the very beginning that inspired American characteristic-the compulsion to achieve.
And achieve it did. At the peak of production in the late 1960s, the Trojan Boat Company boasted a payroll of 700 employees in plants at Lancaster, Pa., Elkton Maryland, Niagara-on-the-Lake and Smithville in Ontario, Canada. The company was turning out an average of 4,000 boats a year, handsome cruisers ranging in lengths from 24-footers to the 52-foot Trojan-Shepherd.
Its salad days were short. In just 25 years from the first to the last wood boat, Trojan had captured a world-wide market-a fraternity of owners from all walks of life, united by two factors: Trojan's clean lines and quality workmanship.

The firm's meteoric rise from a rented dairy barn in rural Pennsylvania was nothing less than startling. No one had ever heard of Trojan when it first appeared in 1949, but anonymity was no obstacle for the two founding partners.
James R. McQueen liked nothing better than a scrap. A fighter pilot in World War II, colleagues remembered him being feisty as the P-51 Mustangs that he had once flown.
Harper Hull was opposite in personality. A graduate of the University of Michigan with a degree in naval architecture, Hull was studious and meticulous. He spent the War drawing plans in various shipyards in the South. Hull and McQueen met when they were working for Owens in Baltimore, where McQueen couldn't get along with Norm, one of the four Owens brothers. In fact, he couldn't stand the sight of him. It was said of McQueen that his one-man crusade in life was to put Norm Owens out of business.
McQueen was confident there was enough room for another boat producer to take advantage of the rapid postwar economic boom. He convinced his partnerthat with their combined skills, success was assured. Hull would design the boats, he would sell them. To this day, everyone talks of McQueen's optimism and enthusiasm. It could have easily been Jim McQueen rather than Willy Loman in Arthur Miller's Death of a Salesman who said; "start big, and you'll end up big."
Yet, Trojan's beginnings were modest. On December 31, 1948, McQueen and Hull drove to Troy, N.Y., with a truck pulling a trailer, where they plunked down $4,000 to buy the assets of a small boat works that had foundered on financial rocks. For their money they got an assortment of woodworking tools and machinery: a planer, a band saw, and more. After man-handling the heavy equipment on to the trailer, they checked into a motel to spend a gloomy New Year's Eve, entertaining each other with gallows humor of their impetuous decision to take on Chris-Craft and Owens.
Calling their newly acquired business, Trojan Boats, they set about building their first model, a 10-foot plywood car-topper that became an instant hit with the public.
They knew that producing larger boats required a proper production line and sea queensomeone to manage it, so they turned to another Owens alumnus, Ernie Warner, a farm boy who had become a skilled woodworker. Warner was an example of what the Navy had discovered a long time ago: that because they are resourceful, farmers make good sailors – they learn how to fix things.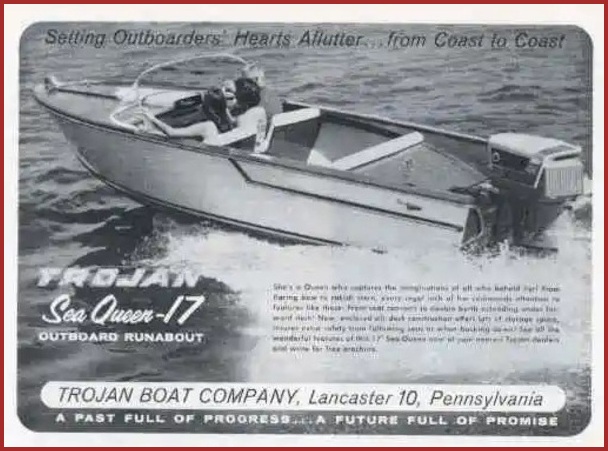 The Warner family tells the story of how a young Ernie blew off the tips of two fingers when he accidentally detonated a dynamite blasting cap. Rushing to the boy's side, his mother grabbed a handful of cobwebs, thrust the boy's fingers into the silky mesh which instantly stemmed the flow of blood. This was resourceful!
Warner joined Trojan in November 1949, buying into the partnership with money he raised by mortgaging his house and cashing in a life insurance policy.
Years later, Harper Hull said much of the success of Trojan in the pioneering years can be credited to Ernie Warner as head of production. Warner was not sea skiffonly resourceful in the early shoestring operation, he was also innovative and analytical. On an assembly line time is money. To reduce the amount of labor required to build a boat, Warner devised a number of laborsaving techniques. The most significant one was to sheath the hull with a single length of Duraply scarfed together from several pieces of plywood. This was fastened on to the frames from the shear strake to the chine, from the stem to the transom, "white knuckled" on to frames of white oak, in the words of John Leed, a former Trojan employee. To prevent rot, the frames and stringers were dipped into a wood preservative that was so corrosive that a drop on the skin was like a hornet's sting.
Lapstrake hulls were assembled one strake at a time, but to speed up the process, Warner invented a tool that sequentially hammered in the copper nails and then clenched them to the backside of the strake.
Hull designed all the cruisers with V-bottoms and a hard chine for stability in rough seas as well as lots of freeboard fore and aft, making Trojans a dry boat in a chop.
The shorter models got bottoms of 1/2-inch ply and sides of 3/8-inch. Cruisers over 33 feet were carvel planked with 3/4-inch Philippine mahogany. The 38-footers and longer were planked with 7/8-inch mahogany.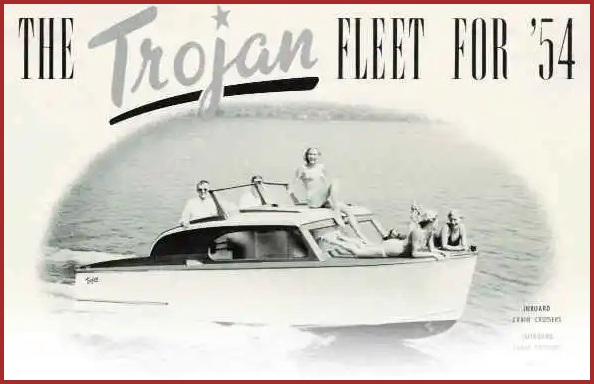 Another interesting practice that gave the plain plywood hulls a smooth finish when painted was gluing waterproof paper over the wood, which covered up any sign of plywood grain. This facing was applied by the plywood supplier, eliminating labor on the assembly line.
What struck new owners of Trojan boats was the quality of workmanship. Fittings were always top drawer. Fastenings were copper and bronze; railings and handholds were stainless steel.
The Philippine mahogany gave the boats a warm, honey-like appearance. As a cabinetmaker, Warner saw that the joinery was high standard.
"They were beautiful boats," in the opinion of Max Silverman, a longtime marina operator and boat broker in Manotick, Ontario. "Trojans matched Chris-Craft all the way."
What the boat buying public discovered was that Trojans gave you more boat for less money. Trojan offered the "most wanted features" as standard equipment that were options in their competitors' cruisers: a complete galley, a stand-up some wooden trojan boatshead, upholstery, cabin cushions and carpets. The cruisers came with a variety of power plants, either single or twin screw, gas or diesel; the latter offer an option that was ahead of its time.
Other characteristics that owners admired were the spacious cabins and teak decks which gave the boats a rich appearance that was seen only on the most expensive cruisers or sailboats in the past.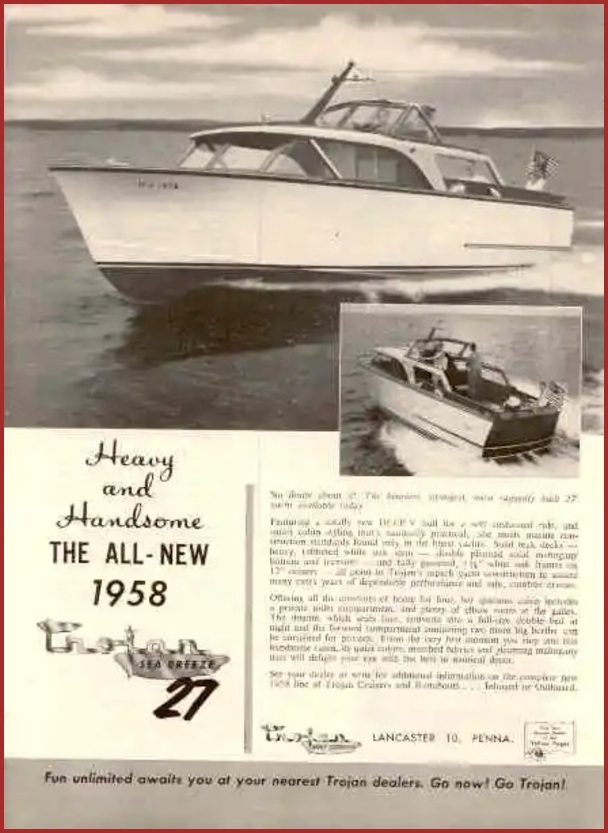 Trojan was a leader in offering workers incentives on the production line. Those on piecework could increase their weekly paycheck considerably. To ensure that quality did not suffer, inspectors approved the work. If it was not up to snuff, the employee made good the work later on his own time. It was a progressive company in many regards. An early IBM computer was in use in 1957 that provided accounting functions, controlled the flow of materials to the production line, managed inventory, and recorded the piecework done by individuals who also enjoyed a profit-sharing retirement plan.
Before a succession of corporations took over the Trojan management, many employees said they felt they were working for a family business. When Trojan trojan 25acquired Shepherd Boats in Canada, workers there were naturally apprehensive about the take-over. But Trojan surprised the Canadians with its thoughtful management-employee relations. "It was the happiest job I ever had," remembered Helen Rockwell who worked in the Trojan-Shepherd payroll office.
Trojan displayed another distinctly American trait: hucksterism. When anyone asked why the company had located in land-locked Lancaster, they hinted it was because of the presence of a pool of Amish workers in the area, giving credence to their talents as woodworkers. "In fact, the Amish were no more or less talented than any of the other workers," said Larry Warner, the son of Ernie and himself a long standing Trojan employee. "What they did excel at was giving the company nine hours of work in an eight-hour day."
For visiting firemen the sight of the black-clad Amish on the production line with their straw hats was not only a colourful sight but also a reassuring one of fastidious craftsmen at work.
"They were really excellent barn builders who kind of got involved in boat building," laughs Warner. The real reason Trojan located in Lancaster was because the three partners lived nearby.
Another innocent deception the company perpetrated was to draw human stretching boat dollarfigures disproportionately smaller than normal in illustrated brochures as to make the boats look bigger. That they seemed to be a family of dwarfs didn't seem to matter to the founders.
It is difficult to know how many wooden Trojan cruisers were actually built. As the new owners of the Trojan firm came and went, much of the company's financial records and plans got tossed into the dumpster. Records that do exist for the 1950s show that success was rapid with the introduction of a 20-foot pocket cruiser with a stand-up head that "really put Trojan on the map," recalled Larry Warner. In a five-year period, from 1953 to '58, Trojan sold 16,783 boats, a remarkable achievement for a newcomer in a very competitive industry.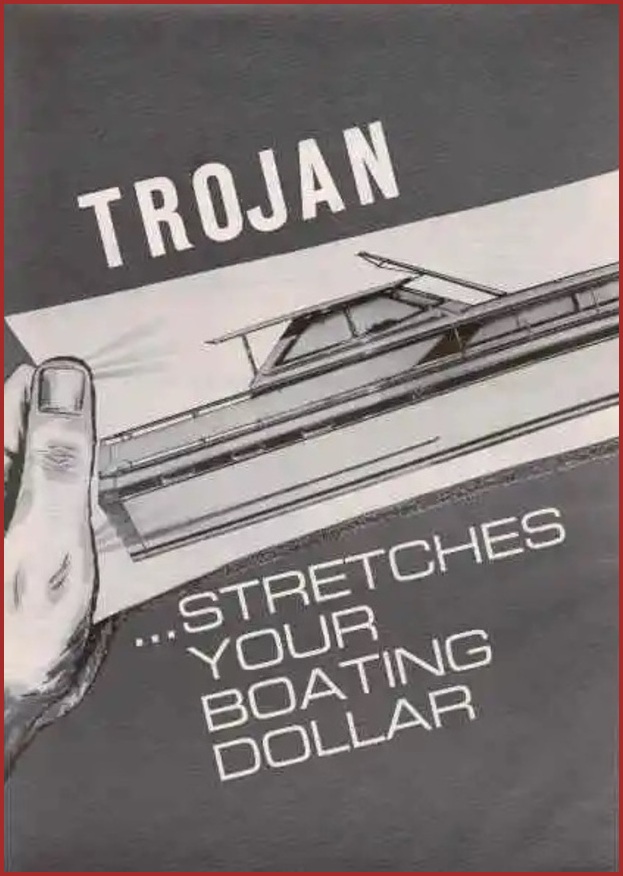 While records are incomplete the years between 1958 to 1974, when the last wooden boat was made, a guesstimate of 3,000 boats a year would bring the wooden Trojan fleet to 64,783 boats built in that period. And that is conservative since, by the middle 1950s, Trojan was already building on average 4,000 boats a year.

Unfortunately, Trojan was slow to recognize the shift from wood to fibreglass construction. "Jim McQueen never liked fibreglass. He thought it was a fad," said Larry Warner. By the middle of the '60s the company still had not begun to build in fibreglass, or, for that matter, aluminium or steel. When it did, Trojan turned to a local company making bathtubs to turn out the early fibreglass hulls.
Still, the middle 1960s were roller coaster years, with the Whittaker Corporation of Los Angeles taking over Trojan, who shortly afterwards acquired Shepherd Boats in Canada. The deal gave Trojan access to Canadian and British Commonwealth markets. The move also gave Trojan a luxury 52-footer that soon found favour with American buyers. In 1966, Trojan made an aggressive bid to get into the European market, shipping 24 models across the Atlantic for boat shows in England, France, Germany, Italy and Spain.
At home millions of TV viewers were already familiar with Trojan's 33-foot Express Cruiser seen in the Sea Hunt series, starring Lloyd Bridges as Mike Nelson, a Navy exfrogman. The series used a cutaway model for interior shots as well . Bridges liked the boat so much, he bought one for his personal use.
However, the company's initial reluctance to accept fiberglass as the way of the future, and a misunderstanding of the public's boating tastes which chose the greatly reduced maintenance of the the new technology, marked a turning point. Eventually, gone were the smells of sawdust, paint and varnish, to be replaced by resins, epoxies, molds and composites. Gone, too, were the off-the-wall antics such as Jim McQueen sighting the shear or chine line by spreading his legs and looking backwards through them at the upturned wooden hulls on the production line.
By the late '60s Trojan was playing catch-up in an industry that had abandoned wood for fibreglass in the mass production of recreational boats. Only the die-hard traditionalists and custom builders stayed with wood.
"The number one problem Trojan always had was not enough money. They were growing faster than resources could support," said Larry Warner. Moreover, while they sold thousands of boats, they still couldn't compete with Chris-Craft when it came to buying materials in volume.
A succession of new owners arrived and departed as if through a revolving door, each with a solution of how to become viable. After Whittaker came Invest Corp., followed by Bertram, who launched the Bertram Trojan International series in the late 1980s. Next came Genmar Holdings, Inc., who paired the Trojan name with Carver, one of Genmar's many boat-producing companies. In 1992, Genmar closed the Lancaster plant and moved the production line to Wisconsin.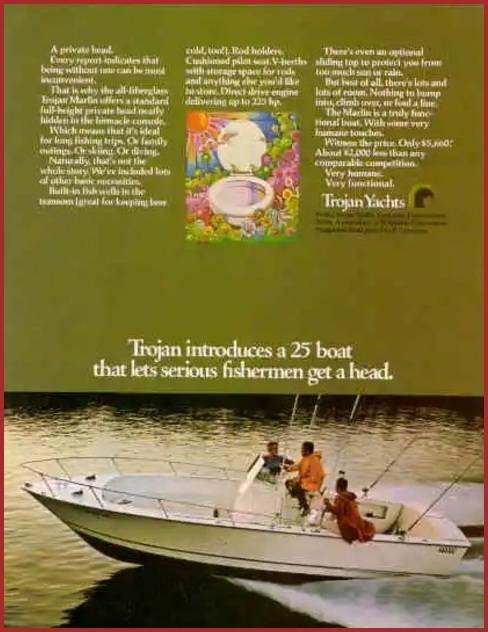 Larry Warner was offered a job with Carver in the mid-west. Instead, together with John Leed he founded Marine Tech, a company that bought Trojan's Lancaster inventory to supply parts for Trojans, which included the wood era.TrojanInternationalAllThey set up shop in rented space in a corner of a pipe organ repair factory in Columbia, Pa., a few miles west of Lancaster. Besides propeller shafts and struts etc., they inherited what company archives survived. This included some financial records, boat serial numbers, photos and other memorabilia of the wood construction days.
While the name Trojan still endures in the aerodynamically-shaped fiberglass hulls that are the fashion in the new millennium, it is with nostalgia that owners of wooden Trojans remember this gutsy, upstart company; its founding fathers had a dream and made it come true with a boat that was both winsome and rugged. Of the trio of Jim McQueen, Ernie Warner and Harper Hull, only Hull is now left, an energetic 78-year-old still living in Lancaster.
Yet, for all three of these remarkable men, their legacy lives on in the memory of anyone who has ever seen their wooden Trojans cruising on blue seas under sunny skies.
Brian Nolan is a Canadian author who usually writes on politics and military affairs. He divides his time between a home in Ottawa and a pied-a terre in the south of France.
Motorboating, Feb 1981