TROJAN BOATS AND THE TROJAN BOAT COMPANY – 1956-1992
For those of us who love our sleek wooden boats, especially the original Trojan boats, 1949 was a year to remember. It was four years after the end of World War II, with U.S. manufacturers still converting to peace-time uses of trojaan woodconstruction materials no longer needed for the war effort – steel, aluminum, rubber, nylon, and newer products such as plastic and vinyl. Novelties of 1949 included inflatable plastic boats, and a surfboard coated with fiberglass.
That year two young men tired of their jobs at Norman Owens' Boat Company, and decided to leave to form their own company. Jim McQueen and Harper Hull traveled to Troy, New York, where they bought the Cottrell-Spoore Boatworks, a small builder of wooden racing boats and runabouts. McQueen and Hull renamed the company "The Trojan Boat Company" and moved operations to York, Pennsylvania. There they bought a dairy barn, converted it to factory use, and started to build boats in the heart of Pennsylvania Dutch Country where they had access to the local Amish work force, hard working and skilled craftsmen. Not long afterward they moved their main factory to nearby Lancaster.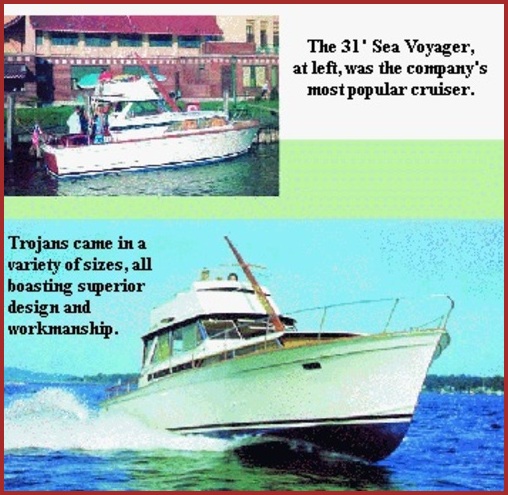 In January 2001, when Bob Cushman interviewed Larry Warner and John Leed, keepers of Trojan Boat archives, Warner recalled, "Problem was they didn't have any idea on how to run an assembly line. So they thought, Let's go back and get ol' Ernie Warner and get him over here with us. So that's how he got there." With Ernie Warner in charge of manufacturing, McQueen's area was Sales, and Harper's was Engineering. Larry was one of Ernie Warner's five sons who also joined the firm. John Leed's father had been Line Specialist at Trojan Boats, and John himself had also worked in production.
In 1950 the Korean War apparently slowed the start of the new company, while Jim McQueen left for the service. After 1953, when the war was over, business boomed for The Trojan Boat Company at mcqueenits Lancaster factory, and within two years the young company was producing some twenty boats a week. In 1954 it introduced the famous Trojan Sea Breeze which before long generated 800 orders.
In the 1960's the 31-foot Sea Voyager came out; 10,000 of these wooden family cruisers were produced over the next decade. In 1966 Trojan acquired the Shepherd Boat Co., a Canadian builder of up to 50-foot wooden motor yachts.
Larry Warner recalled that in 1964, he was involved with the engineering of the trojan boat advertisementSea Voyager, the first 42-footer he worked on, a boat that took about a week to build. "Did you design the '42 a special way? Or was it pretty much stock?" "They were all the same design, but there were options. They had what we called x packages, offering things beyond our normal features. If you wanted a depth finder or something like that, you'd get written up as an x-package. If they were really busy they would try to discourage that, but if they were looking for work they didn't seem to mind too much. . . But as far as a major redesign, it didn't happen."
By 1968 time Trojan facilities in Lancaster, Pennsylvania, Elkton, Maryland, and Niagara-on-the-Lake, Ontario, Canada, had made Trojan the second largest producer of inboard boat-builders in the world, building a complete line of wooden boats.
The company was an early user of computers, and even had the capacity to contract payroll and data processing work for other business firms in the Lancaster area, using the new automatic tape punch equipment then becoming seabreeze 25available for data processing. The early computers being developed in 1949 worked thousands of times faster than their predecessors. These new machines used vacuum tubes to replace the more cumbersome electro-mechanical wheels and levers of older models. The Trojan team was ahead of its competitors in using this new technology.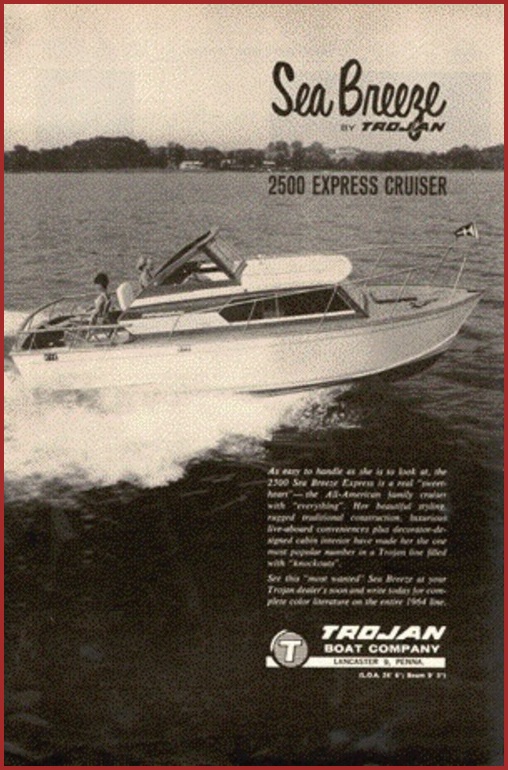 Larry Warner recalled, "They built a lot of the little 14-16 footers. They built those boats, probably 25-30 of them a week. Put them on trailers. My Dad used to put six boats on a trailer and deliver them all over the place. But the boat that really brought them into the limelight was a 20-foot cabin cruiser with a stand-up head." "Did it have a kitchen in it?" asked Cushman "Yes," Larry replied. "It had an alcohol stove in it." John Leed added, "It had a 5-gallon jerry jug for the fresh water system, an old military can they set up in the head." "What year did they make that?" asked Bob. "I think it was 1953," replied John "And they made a lot of them?" "Yes. See, back in those days Trojan actually had an incentive system on their production line, which was unheard of. Nobody in the boating industry had an incentive system. Everyone else did it in time. They actually encouraged the guys to work harder and faster and they'd make more money if they made more boats. Trojan was really the envy of the industry. We could build boats unlike anybody else."
As capable and forward-looking as McQueen's team was, it did not foresee the revolution in boat-building that was soon to come. By 1960 boat designers had finally realized the practicality of using fiberglass in place of wood. At the Trojan Boat company, however, the change would come slowly. "Why did they wait so long to do the fiberglass?" asked Bob. mcqueen_1977'Jim McQueen said that fiberglass was a passing fancy. He thought that fiberglass just wouldn't stay around. He said, "We're not getting into that." There were signs in the office that said "If God had intended there to be fiberglass boats, He would have made fiberglass trees." And that kind of thing.' "Yeah, he fought it. Then eventually he couldn't do that any more."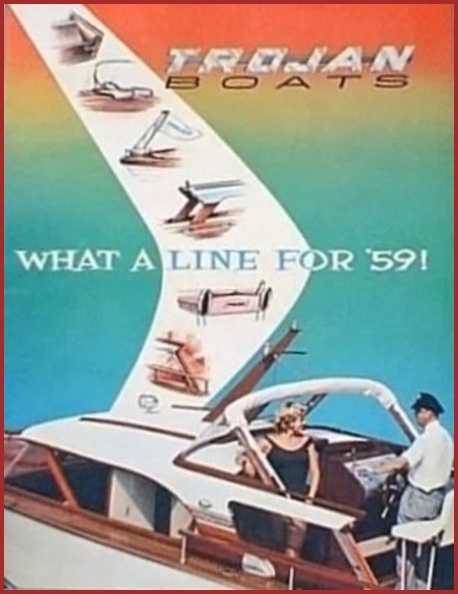 When McQueen finally realized that to remain competitive fiberglass must replace wood in the manufacture of boats, Trojan Boat did not have the capital to build the molds for a complete line of fiberglass boats to replace their existing wooden models.
In 1969 the needed financial backing came in the form of a buy-out by the Whittaker Corporation. The Trojan acquisition was one of a number of boat businesses that Whittaker bought at that time, with a plan, said John, and "What GM did for cars, they were going to do for boats. They were a little ahead of their time." So Trojan at last ceased production of wooden boats and began production of fiberglass boats.
Moving into fiberglass production, Larry Warner remembered the 32-foot boat as "Probably our best boat. I guess it was the boat that turned the company around.". A transition period began during which Jim McQueen and the old line trojan 58Trojan managers were obliged to adjust to changes brought by the new management team from Whittaker, some of whom had no boat building experience. The company survived the change and, operating as a Whittaker subsidiary, began to produce well-built fiberglass boats.
John and Larry remember the most successful models as the 28, 30, 31, 32 and 36-foot boats. For twenty years from about 1972 to 1992 about 2,200 of the twin inboard 32-foot "sedans" were built.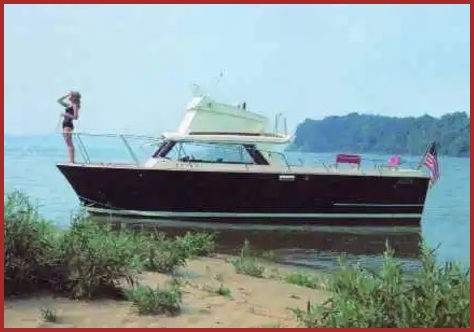 In 1981 Trojan introduced the International series of motor boats, one of several popular models.
The original Trojan Yacht Company of Lancaster, Pennsylvania ended production in 1992. Miramar Marine, later known as Genmar, owner of Carver Boats, trojan boat pixpurchased the Trojan Boat brand name and assets. Genmar Holdings, Inc., the largest independent manufacturer of recreational powerboats in the world, located in Pulaski, Wisconsin, produces motor yachts with the Trojan name through its Carver Yachts subsidiary.
Boatbuilding technology has changed, and the Trojan yacht of today is an entirely different vessel from the historic Trojan Sea Breeze of 1954 or the Sea Voyager of 1968.
Information contained in this narrative has been obtained with the help of Roger DeVore who cites Powerboat Guide's 2000 Edition, Ed McKnew & Mark Parker, TROJAN 1949-92, and from Bob Cushman's interviews on January 26, 2001, with Larry Warner, John Leed and former Trojan Boat employees.