DONALD E. SEITH
Background:
The saga actually began when two former Owens boat employees, Jim McQueen and Harper Hull, armed with a GI loan and a rented truck bought the dubious assets of the failed Cottrell-Spoore Boatworks of Troy, New York and set up shop in a former dairy in Lancaster, Pennsylvania. The post war boom was in full swing, families were beginning to have more free time and disposable income was on the rise. Enter recreational boating.
The original product was 13' – 15' outboards. Over the years the product line settled in solidly with the family cruiser. Boats that were a good value at a good price, appealing to a middle income demographic. Something Ma and Pa and the kids could enjoy as a family. The products were purposely un-radical. If they were efficient, reliable, well built, sturdy and comfortable, they were also without surprises.
Change came slowly to Lancaster's ultra conservative Trojan. McQueen believed that fiberglass would be a passing fad. The last powerboat manufacturer to move to fiberglass, Trojan introduced its last all new wooden cruiser at the 1967 Miami boat show.
By the late '60s Trojan was playing catch-up in an industry that had completely abandoned wood for fiberglass in the mass production of recreational boats. And those fiberglass boats were far more appealing to the public. When McQueen finally realized that to remain competitive, fiberglass must replace wood, Trojan Boat did not have the capital to build the molds for a complete line of fiberglass boats to replace their existing wooden models.
In 1969 the needed financial backing came in the form of a buy-out. McQueen gave up his ownership of the firm in 1969, to finance the transition with a sale to Whittaker Marine Group, which ultimately included Bertram Yacht, Trojan Yachts, Riva, Desco Marine, Kettenburg, Balboa Marine, and Coronado Yachts. Total sales of the Whittaker Marine Group reached between $250 and $350 Million in the early 70's.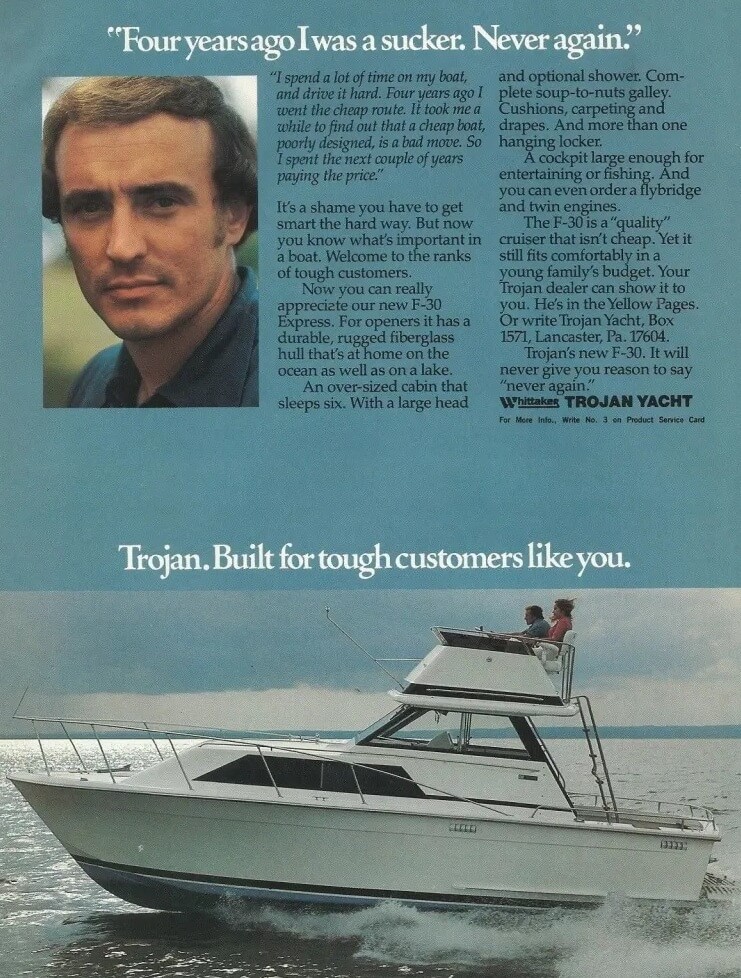 The seventies presented a changing market. Historically there were outboard builders and cruiser builders. When it came time for an outboard skipper to move into a cruiser, he had to change brands. With the entry of Sea Ray, Bayliner, Wellcraft and others into the cruiser field, this was no longer the case. Plus their cruisers trended toward the hot new neo-rocket style. Interiors were plush and more contemporary. The sales of the old line cruiser builders sagged. Adding to the old line firms market share losses, most middle class families were faced with the diminishing ability to buy boats of any type, let alone Trojan's reason for existence – family cruisers.
Don Seith's Promotion:
Originally from Owens Boatworks, Don Seith was promoted from vice-president of marketing to President of Trojan Yacht on August 1, 1979. Even though sales were good that year, Seith was aware that the market was fading for Trojan's bread and butter boats – those large fiberglass cruisers aimed primarily at middle income families. At a dealer meeting the following week the question of a new direction was raised. Don remembers someone saying, "You ought to look up a fellow named Harry Schoell."
Time For a Change:
Toward the end of September, Don knew that what he needed was not to be found within the company. Seith was convinced that the answer was a revitalization via new boats that were a quantum leap over and beyond the offerings of the competition. Boats that were full of pizazz and created for a new market of the well-heeled who would pay for that luxury, performance and excitement.
At the 1979 Norwalk Boat Show Seith talked of the need for a dramatic change with boating editor and writer Pete Smyth, who had once worked for Trojan. "You should talk to Harry Schoell," said Pete.
In 1979, Harry was a designer in search Of a company, and Trojan was a company in search of survival.
Enter Harry Schoell:
That led to a meeting of Don and Harry at the Fort Lauderdale Boat Show in November, and their conversations continued, on and off, through the winter months, ending with a decision to meet again at the Miami Boat Show in February of 1980. Don listened again as Harry poured out ideas, but still wasn't sure. Then Harry arranged for a ride in a 37-footer he had designed, a boat with his patented "Delta-Conic" hull bottom.
Don and Harry spent much of the remaining time at the show looking at hull bottoms. Don says they crawled under about every boat there, and that it was during that time that it all began to jell for him. He told Harry to start sketching, diverting him from Schoell's 37-footer saying, "Let's go with a 33."
On April 2, 1980, Harry presented drawings, a model, and a sketchy plan for a Trojan International line of boats—a line that would feature the Delta-Conic hull, styling that smacked of Mediterranean influence adapted to American taste, model versatility that would have broad appeal for sophisticated individuals, and construction that would incorporate vacuum-bonded liners with molded-in ducts and channels for air conditioning and wiring harnesses.
Convincing the Brass at Whittaker:
The U.S. economy entered a recession in 1980 that, at the time, was the most significant since the Great Depression. One of the causes of the early 1980s recession was the Iranian Revolution of 1979, which sparked a second large round of oil price increases. More important, however, the Federal Reserves' efforts to tame inflation through restrictive monetary policy, which had the expected effect of dampening economic growth.
These issues on top of the fading market made the year 1980 a very bad one for Trojan. The Lancaster Pennsylvania's long-standing market had virtually disappeared. In August, Don had a meeting with Joseph Alibrandi, president of Trojan's parent – Whittaker Corp., Bill Christmas, Vice-President and Bob Smith of the Whittaker Marine Group. The numbers told the story and the thought that Trojan might better shut down was seriously considered, but when Don offered his vision and presented Harry's ideas, Joe Alibrandi's response was, "Let's go with it!"
The decision represented a sizeable capital investment at a time of disappearing sales. Had the conservative McQueen remained at the helm, this choice would have been unlikely. Additionally the capital requirement for the new, risky project would have been next to impossible. It was the financial wherewithal of Whittaker, and Alibrandi's belief in Seith's vision that allowed the project to proceed. The investment did pay off. Despite a sagging economy, the Trojan International series, beginning with the 10 Meter found an eager market. The glitz, attention and glamor of the Internationals stimulated interest and drew attention to Trojans other vessels offered, stimulating sales there as well, which would have been absent otherwise. More than that, they stimulated the thinking and openness at Trojan and made a whole new company of it.
Uniqueness is an Understatement:
The success of the innovative design was not limited to the styling, but also included:
Modular construction -- decreasing costs and weight down, increasing strength and stiffness with five basic moldings: hull, deck, two hull liners, and one deck liner. Most of the interior structure is molded into the liners, bonded under intense vacuum. Many of the interior surfaces are curved to promote stiffness. The sheer on the 10 meter is four moldings, interlocked, bonded and bolted together. Building the tooling with this much precision was involved and expensive however it resulted in a very strong and light hull.
Woodless stringers -- little wood below the water line (rear engine room bulkhead excepted)
Access panels to all machinery and hidden mechanisms
Centralized and instantly accessible dash panels for all electrical systems, including the "chases" for all wiring harnesses.
Schoell's patented side exhaust system with the mufflers built into the hull liner – putting the exhaust into the water along the sides of the boat where it is carried away, instead of blowing back into the cockpit with the "station wagon effect"
Helm console design that hinges open easily for access
Molded air conditioning ducts for even cooling throughout the vessel
Uniquely shaped portlights that open with a quarter turn of the fasteners
Completely enclosed forward stateroom with a solid, curved wall, which also provides rigidity to the hull structure.
In a total departure from Trojan's wood roots and industry standards, the interior of the 10 meter was created to be opulent and luxurious. The brushed aluminum, grey and wine red formica and silver grey soft high quality fabrics throughout made an impression on consumers.
Curved, push button electric interior doors for the head and forward stateroom.
Dramatic one piece curved lexan sliding door.
Curved Stairway
Tambor doors on interior storage areas
Access panels to all machinery spaces
Curved, raked windshield
Mediterranean raked radar arch

The Trojan American
Seith seeking to capitalize on the interest, excitement and newfound public acceptance of the new Internationals, Seith introduced a new line of smaller 20', 22' and 26' boats. The idea was to share the Delta Conic Hull experience with an entirely different market – the outboard boater. Expand the product line over a wider range of sizes and prices. Get people started early with the design and the brand; the idea being to capture an expanding market share and to create a future market for that outboard owner wanting to move up to a cruiser.
Trojan American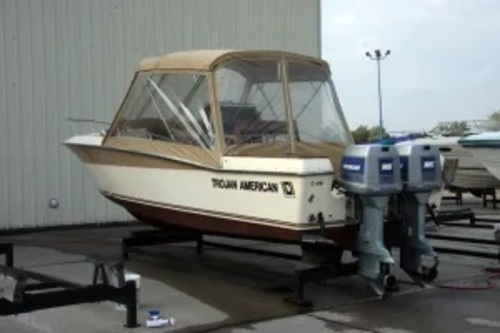 Trojan American with Twins

Seith purchased the hull molds from North American Boats, who built the Delta Conic Hulled American line through a license with Schoell. Center console, open fish, and express models were planned in Lancaster. Few of these well-built boats were produced. Higher build costs equated to a higher selling price. First or second time outboard boat buyers knowing little about hull design found it difficult to justify the higher price and the boats had difficulty competing head to head with Bayliners, Sea Rays and Wellcrafts.
Sustainability Requires a Bottom Line:
While the 10 Meter was a sales success, the aft cabin express and sedan models saw little market penetration and extremely poor sales. The 9 meter and the outboard Trojan Americans were also sales failures. The costs for the design, product development, tooling and assembling new talent to implement production of the new product line were extensive.
On top of all that, the International was a very, very costly boat to build. It had to sell at a high price to be profitable.
Despite building great boats, tremendous media attention, customer raves and a busy assembly line, in the end, the bottom line for Don Seith was in fact the bottom line. Given production costs, pricing challenges, several developed products that did not sell, the sales volume required to be profitable at the existing margins was simply not achieved during the Seith years. Whittaker could not continue to stem the losses.
In 1984 Don Seith found himself out at Trojan, and was looking for a new challenge. Partnering up with longtime friend and fellow Trojan employee, Ron Pickle, they acquired the molds to the Trojan American line and in 1984, along with Greg Krueger of the Jefferson Beach Marina, St Clair Shores, Michigan, formed American International Boats, utilizing the Trojan American design with production relocated to Pearson Yachts in Bristol, Rhode Island. Offering medium-sized handsome, well made fiberglass boats, American International Marine featured outboard and seadrive motors on vessels capable of leading professional as well as personal offshore travels. Unfortunately sales levels of these fine boats were not substantial enough to sustain the venture, and the design and molds were then sold to Larson Boats who successfully marketed the product and further developed the concept into a second generation of the design with a stepped version dubbed the Duo Delta Conic hull design.
Pickle & Seith
American International Marine production ended after just two years in the recreational watercraft market, specializing in 22 – 26' vessels. Pickle sold the company to Larson in the late 1980s. Like many others, Pearson Yachts did not survive their 1991 bankruptcy.
Later Pickle and Seith also set up Princess Yachts US and began importing the English-built yachts into North America through a national dealer organization they established together.
Seith's Legacy:
Much like the bold, brash design he championed and saw to fruition, Donald E. Seith had the fortitude to take the risk, sell the concept, and assemble the talent and resources necessary to see the project fulfilled.
Had it not been for his vision, in all likelihood Trojan would have closed the doors far earlier, joining the hundreds of similarly doomed boat companies. The marine industry would have remained slow to change. Seith's belief in the need for a dynamic change and in the Schoell concepts fast tracked many changes in recreational boating and left a legacy product that has withstood the test of time.
Donald E Seith (1931 – 2009)

Donald E. Seith, of Lancaster, passed away Monday, August 31, 2009 surrounded by his loving family at the Essa Flory Hospice Center, Lancaster. He was the husband of Lois T. (Henning) Seith with whom he shared 55 years of marriage.
Don was born in Cleveland, Ohio on the 16th of December 1931. He was the son of the late Franklin A. and E. Carolyn (Fausnaugh) Seith.
In 1954, he graduated from North Central College in Naperville, Illinois. He and his wife both graduated in the morning and were married in the afternoon.
Don proudly served in the United States Marine Corps as a 1st Lieutenant and also was a member of the Marine Corps League. He was employed for many years in the boating industry, working for Owens Yacht, Wellcraft, Tiara and Trojan Yacht, where he served as president.
Don was a member of the Hempfield United Methodist Church. He also was an active member and honorary member of the Lancaster Liederkranz where he served as a trustee and sang in the Liederkranz Chorus. He also served as president of the N.O.S.B. (North Eastern Singing Society).
For even more Trojan information visit Trojanboats.net