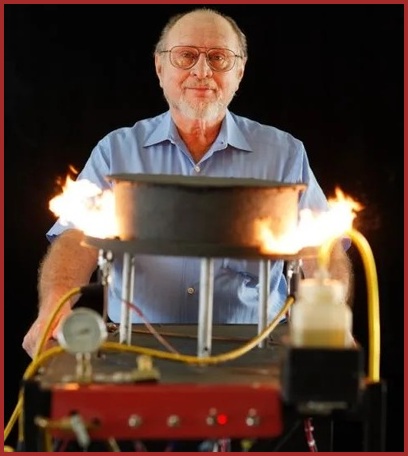 Harry Schoell has two patents issued and 11 patents pending on the Schoell Cycle Heat Regenerative External Combustion Engine, now called the Cyclone Engine, as well as many other patents pending on the engine's components in the U.S. and internationally.
Schoell holds over 40 specialized patents and patent applications, and Harry is known throughout the marine industry for his genius and is highly sought after for his knowledge and expertise. He is always thinking ahead and "outside the box".
Harry has won the Engineer of the Year Award and Designer of the Year Award from Vapor Trails Magazine. He has also been presented with four different Innovation of the Year Awards from the NMMA (National Marine Manufacturers Association): one for a multi-hull boat design, one for a surface drive propulsion system, one for marine engine conversion, and a final one for a stepped hull design. All designs were patented in recent years. Harry belongs to SAE (Society of Automotive Engineers), the ASME (American Society of Marine Engineers), and The Society of Naval Architects and Marine Engineers.
In the early 1960's utilizing the deep "V" hull shape and patented Running Strakes. Harry Schoell designed the Magnum twenty-eight. He also designed the Wellcraft Zepher and Vega, which introduced state of the art balsa core lamination method. By 1970 Schoell Marine was instrumental in engineering and designing projects for Seabird, North American, Donzi, Cary, IMP, M.G., Glastron, Stapelton, Hammond and Trojan; all of which included Schoell's "revolutionary" Delta Conic Hull.
Schoell Marine designed and stylized the "Trojan International Series." From the Delta Conic Hull to contemporary styling with spacious and modern interiors, Shoell's unique designs of the interiors, exteriors, modular construction techniques and vacuum formed hull methods lead the industry in creativity and innovation. It's no secret that many other firms mimicked the original design concepts fornd in the Trojan Internatonal series. Additional design commissions include; Columbia Research Corp., U.S. Navy (submarine), Disney Studios, Cannell Production, Multi Sea, Fountain Powerboats, U.S. Marine Corps, Challenger Offshore, Infinity Yachts, Larson Boats, Yamaha, Propulsion Systems Inc., Mach Propellers, Oceanic, Performance Boats, Caiman Catamaran, Alsberg Boat Works, Active Thunder, Rinalli Ltd, Flarecraft and Powertech Propellers, Midnight Express, Crompton Marine (UK) Ltd, Predator Marine, RumRunners' Yachts and Kiwi Cats.
Schoell's inventive ideas ideas have engendered numerous patents including: Running Strakes, Delta Conic Hull, Water Jet Propelling Apparatus for Boats, Ground Effects Machine, Anchor and Winch, Trimmable Surface Drive, Rolling Radial Engines, Duo Conic Hull and numerous other patent pending projects.