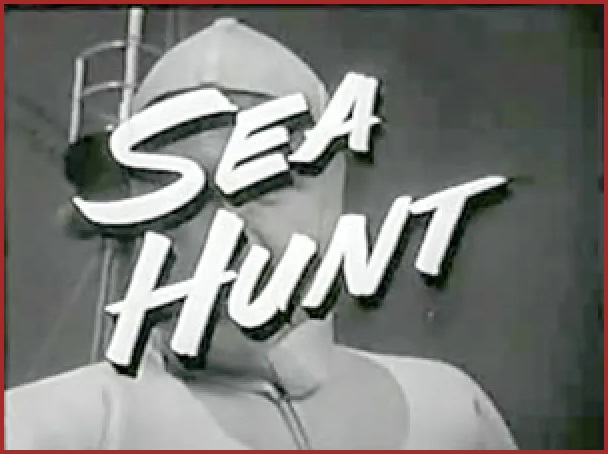 The Argonaut was and is a Lancaster, PA built Trojan boat.
Mike Nelson's boat -- "The Argonaut"
San Diego California is the home port of ARGONAUT. Argonaut is the famous 33 ft TROJAN Express Cabin Cruiser used by Lloyd Bridges as Mike Nelson in the 1960's underwater adventure TV series "Sea Hunt."
Under the warm Southern California sun in 1960, In its third season the cast and sea hunt trojan boatcrew of Ziv Productions began filming Americas number one syndicated underwater adventure weekly TV show, Sea Hunt. Many technical advances had been made in the field of scuba diving for recreation or research since the shows first season in 1958. Ziv and Lloyd knew that the new ARGONAUT had to be first class in every way. Said to be requested by Lloyd Bridges himself, a brand new 33 foot Trojan Sea Breeze Model 346 Express Cruiser with Fly-bridge was custom built and delivered to Ziv Productions Hollywood California.
Upon receiving the work order, Trojan boat company located in Lancaster P.A. made sure that only their top shipwrights built the ARGONAUT . American reputation, quality and pride had to be maintained. For many generations Amish men in Lancaster P.A. had carried on the family tradition of building wooden vessels. As we further explore through restoration, we discover that the design and quality in ship building is flawless. Trojan ship designer, William K. Smith oversaw production and quality of Serial number 1018. The ARGONAUT was also used by Lloyd as his personal family boat even after the show ended.
In March 2000, the Argonaut was put into dry-dock for its millennium refit. In order to continue with tradition, this brave vessel needs to be re-varnished,10875879-lrepainted, re-chromed and resealed. It was decided that only the finest materials and time honored traditions for shipbuilding would be Applied to the Argonaut. The Argonaut is all original and is in great shape, all equipment such as depth finder, radio and sonar are in tact. The twin Crusader engines and original instruments still work perfectly. Some parts are just too old and worn to be used and so for safety sake they will be replaced by brand new identical parts.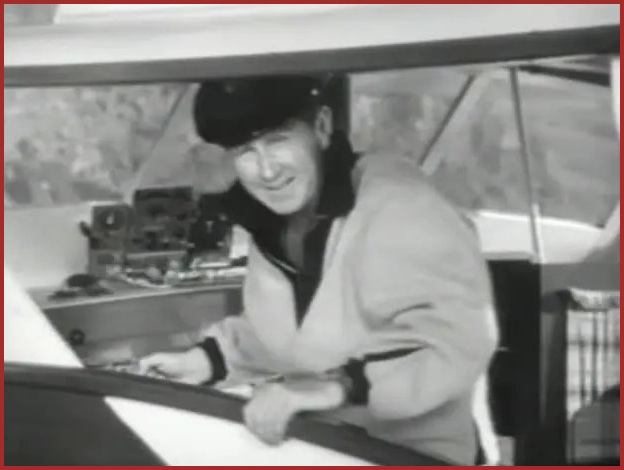 By summer 2002, Argonaut plans to once again ply the California coastline and appear at boat shows and other major events. To carry on with the Lloyd Bridges legacy, Argonaut will work closely alongside other environmental agencies concerned with keeping our oceans clean and safe. So please visit http://www.wm2050.org and help support this effort then ask how you could become an honorary crew member today and help us make clean and safe oceans a top priority this new millennium.
More Sea Hunt Trojan Argonaut Information:
While Lloyd Bridges was the solo star of the series (unless you include the Scuba gear), a young new female star was brought in after 117 episodes had been shot. Her name was the Argonaut, a 33-ft 1960 Trojan Sea Breeze. The Argonaut and Argonaut II names were used on numerous boats that Ziv rented and used in the first three seasons including a Chris-Craft and a 1955 wooden Eddy Craft that included a prop that was supposed to be an underwater TV monitor. But the boat that fans say is the "real" Argonaut was purchased by Ziv United Artists Television and shipped to Ziv Productions in Hollywood on September 21, 1960 from the Trojan factory in Lancaster Pennsylvania. The model 346 Express Cruiser (Serial #1018) was purchased as a part of a revamping program for the fourth season designed to head off the third season sinking ratings. The 12-ft beam boat with mahogany and teak planking sported a custom built fly-bridge. boats_argonaut_ad2Built by Amish shipwrights (craftsmen) and fitted with optional twin 240-hp Crusader Interceptor engines with reverse screws, the Argonaut would only play an occasional role in the plot during the final 38 shows in season four. Trojan boat designer William K. Smith personally monitored the production and assembly of this boat knowing it was for SEA HUNT. Ivan Tors derived the boat's name from the ancient Greek tale of Jason and his ship the "Argo", built by the master ship builder Argo. Argonauts were the Argo's crew members that traveled with Jason in search of the Golden Fleece. Restoration of this classic boat is nearing completion in San Diego. The Argonaut is available for TV appearances, movie productions, and boat shows.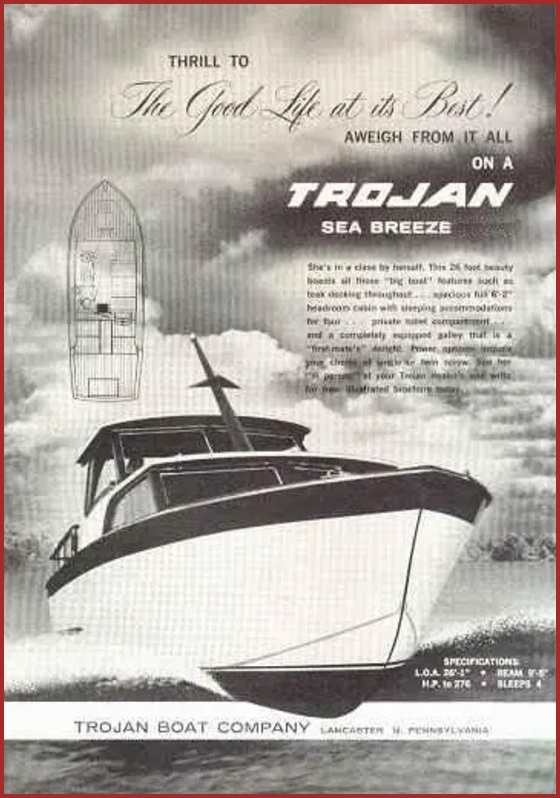 Bridges and his family used this boat after the show ended according to one sea huntsource. In a November 2007 interview, Jeff Bridges was asked about The Scuba Guy's assertion that the Bridges family used the boat but he couldn't recall ever doing that.
The Argonaut, like any important actress, had a stunt double on a Ziv United Artists Television sound stage in West Hollywood. Resting on piles of tires so lloyd bridges mike nelson stage-hands could rock the boat, the engineless and mastless Argonaut sat in front of a large rear-screen where ocean scenes were projected to create close-up dialog shots of Mike Nelson as if he were miles out to sea. This common-place technique of filming close-ups with live dialog is known as "process shooting".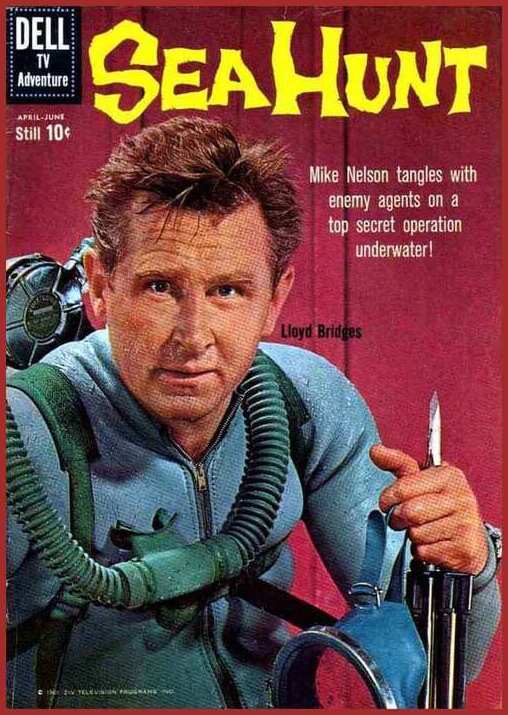 In most episodes, the Argonaut's marine radio fictional call sign was WM-2050. In pilot episode 1B Ziv #1.4, "Mark of the Octopus", the call sign was WA-1005. In Ziv #1.24, "Pressure Suit", the call sign was G57. In Ziv #1.11, "Killer Whale", the call sign was WHL5. In Ziv #2.15, "Nerve Gas", Mike is on the "Chinook" and the call sign was 2XL. These call signs are used in both U.S. and foreign waters. None of these call signs are in 3 x 4 F.C.C. marine call sign format issued at the time.
Sea Hunt Links:

ARGONAUT Website

The Argonaut In Production at Lancaster, PA